Bag-in-box packaging
is an optimized, eco-friendly, and sustainable packaging solution for liquids. It consists of two elements: a flexible inner bag and an outer box made from corrugated cardboard. The box protects against damage and exposure to light while offering valuable space for branding and communication. The airtight bag gives the packaged liquid a longer shelf life. One 3-liter bag in box packaging generates less than a fifth of the CO2 emissions created by using four 75cl glass bottles.
The bag in box concept was developed in 1955 and first took off as packaging for wine. Far from remaining the sole province of vintners, the variety of bag in box fillings is now much more extensive and includes a wide range of beverages and foods. Bag in box is also suitable for storing and transporting dangerous goods such as chemicals. Whatever the filling, the hermetically-sealed bags prevent external contaminants or oxygen from coming into contact with the contents, maintaining the highest product quality right down to the last drop. Depending on the product and use, small and medium-sized bags (1-, 3- or 5-liter filling) can be used as sales packaging. For larger volumes (10 or 20 liters), the bag in box also serves as transport packaging.
Bag in box packaging is the eye-catching in-store advertising medium that can help attract new target groups. Compared to a wine bottle label, for example, bag in box wine packaging provides a much larger communication area and can act as a billboard for the brand on the shelf. Numerous printing and finishing processes are available to complete a standard or premium look: from single-colour flexo-graphic to six-color offset printing; matt, gloss, or UV varnish or a combination; gold and silver inks; pigments, holograms, and embossed films; the options are endless.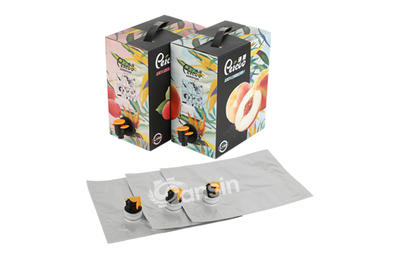 BIB is the abbreviation of bag in box. The package is composed of flexible bag body made of various materials and external box made of cardboard. The bag body is equipped with a tap like switch, which is convenient to open and take out. The unique design can let the liquid flow out and prevent the air from entering, thus prolonging the storage time of products.