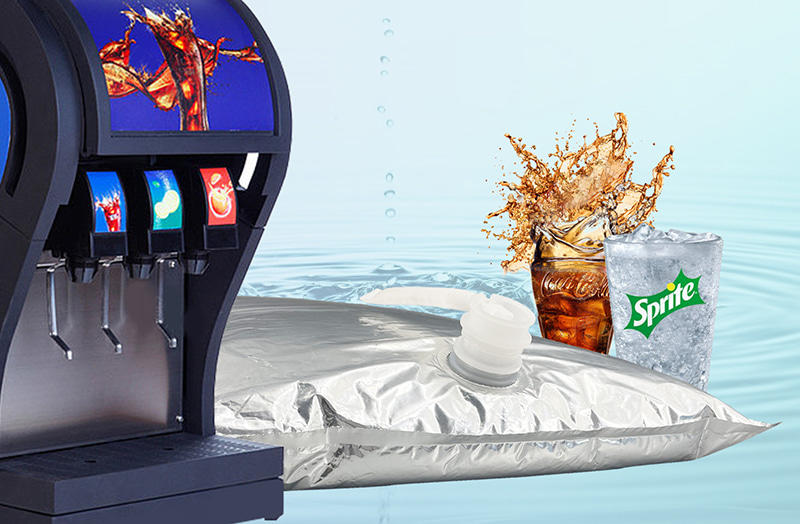 Bag-in-box packaging for soda is a type of flexible packaging that preserves and protects the quality and flavor of post-mix syrup, which is used to make soft drinks.
Bag-in-box packaging consists of a plastic bag that contains the syrup, a cardboard box that protects the bag, and a fitment that connects the bag to a dispensing machine. 
Some advantages of bag-in-box packaging for soda are:
Extended product shelf life
Transportation and storage savings
User-friendly dispensing
Safe and hygienic filling process
Reduced carbon footprint as compared to other packaging options
Bag-in-box wholesale is a form of packaging that reduces the amount of plastic used in a package while increasing its functionality. It involves placing a pouch inside of a larger box, such as a carton or jug, which is then sealed. The pouch serves as an additional container that increases the product's visibility and can be re-sealed after opening. It also provides more room for product information and labeling. This type of packaging can be used for a variety of products, including beverages and oils.
The pouches used in bag-in-box are often made of polyethylene, polypropylene or other high-performance films. These materials are chosen for their ability to protect the contents while maintaining clarity, reducing costs and improving shelf life. The film's barrier properties keep out oxygen, moisture and other contaminants. The result is a longer shelf-life, higher consumer acceptance and a more environmentally friendly packaging solution.
These benefits make bag-in-box an excellent choice for beverage producers looking to reduce their environmental footprint.
It is also the ideal solution for preserving liquids such as wine and other spirits. The hermetically-sealed bags ensure that external contaminants and oxygen do not interact with the product and maintain the integrity of its contents until it is opened and dispensed.
In addition to preventing contamination, the bag-in-box's rectangular shape makes it more efficient for transportation and storage. It can be stacked and stored more easily than pails and other containers of similar size. It is also much lighter than a bottle, making it easier for employees to carry and haul. The spigots located in the bottom of the container allow liquid contents to be easily dispensed without having to remove and open the entire container.
Aside from its environmental benefits, bag-in-box is a cost effective alternative to traditional glass bottles.
It requires less energy to produce and transport than a bottle of wine, which can save money for wineries with high shipping or distribution costs. In addition, it reduces carbon emissions, as 90% of a wine's environmental impact is attributed to its production and transport.
Whether you are a brand owner or producer, the use of bag-in-box packaging can help you create an attractive and functional package that will set your products apart on store shelves and in consumers' homes. Its flexibility allows you to customize its design and print a unique message to connect with customers. Moreover, it is easy to produce and offers a low-cost option for brands that need to cut their costs. In addition, it can be a good choice for new product launches and other special events. A wide range of options are available, from a custom printed sleeve to a preglued booklet. The choices are truly endless. This is an exciting time to innovate your packaging! STI Group has years of experience manufacturing this type of packaging. Its facilities are even BAM certified for producing dangerous goods packaging, ensuring its safety and quality. Contact us today to learn more about how we can help you with all of your packaging needs.