Bag-in-box packaging
is a flexible package—with an inner receptacle and an outer package. Flexible bag-in-box containers use significantly less plastic than rigid containers—in fact, 80% less plastic. This is an important distinction for companies building their environmental reputations and looking for more sustainable packaging solutions. Less plastic translates to a more favorable disposal and recycling profile, and savings on time, money, and efficiency with transportation and storage. Energy consumption at all stages of manufacture, use, and disposal of bag-in-box flexible packaging is less as compared to rigid containers, which means decreased carbon emissions during packaging manufacture, product filling, transportation, recycling, etc.
Here are a few bag-in-box sustainability statistics:
Uses 20% less energy to produce than rigid pails.
CO2emissions during transportation are decreased by 50% compared to competitive rigid containers.
The rectangular shape minimizes dead space by a 3:1 ratio, allowing more product per pallet.
Maximizes shipping capacity: 1 full truckload of bag-in-box is equivalent to 10 truckloads of rigid pails.
According to the Flexible Packaging Association, flexible materials produce 75% fewer carbon emissions than the next closest packaging option.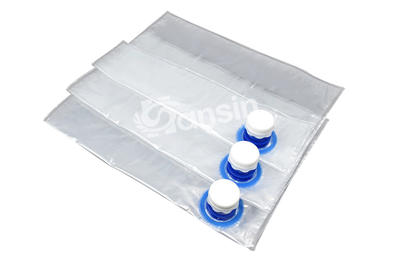 Transparent BIB (Bag in box)

Advantages:light in weight,convenient for storage and transportation,low breakage ratio and convenient use,economical solution for transit storage,transportation and final retail packing.


This bag is maked by PA/PE laminated materials,with basic barrier and transparent material,it is widely used for edible oil,liquid egg,jam,syrup and other chemicals.