Among various industries using
bag-in-box packaging
solutions, the beverage sector has emerged dominant. According to a study by Future Market Insights, the beverages sector is expected to account for over 65% of sales in the bag-in-box market.
Within the beverages industry, the wine segment holds the largest share. Using bag-in-boxes for packaging wines is particularly handy when it comes to using by an individual. Bag-in-boxes are lightweight than glass bottles commonly used for packaging and are easier to be stored away.
Europe has emerged as a key market and one of the leading producers of wine. The region has been exhibiting increasing application of bag-in-box for packaging and transportation of premium wines. Even wine experts acknowledge that the wines in the bag-in-box have a fully conserved taste.
Manufacturers are adhering to stringent food regulations to ensure the flavor of the wine stays intact. Besides this, hygienic &useful access to the inside content, the plastic film deliberately guards wines against oxygen and light are some of the important aspects that made bag-in-box a foremost packaging solution for wines.
Several industries are opting for bag-in-box packaging solutions as these collapses easily into a flat bag and box which minimizes shipping cost and storage requirements. These factors are expected to enable growth in the market in the coming years.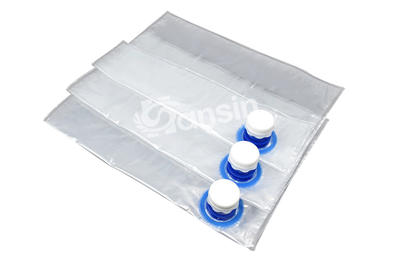 Transparent BIB (Bag in box)

Advantages:light in weight,convenient for storage and transportation,low breakage ratio and convenient use,economical solution for transit storage,transportation and final retail packing.


This bag is maked by PA/PE laminated materials,with basic barrier and transparent material,it is widely used for edible oil,liquid egg,jam,syrup and other chemicals.