Bag in box, discover a new way of consuming wine: Characteristics and advantages
Bag in box, discover a new way of consuming wine: Characteristics and advantages. "Many are the reasons we can name to drink wine in bag in box, and in recent times we have heard a lot about" bag in box ".
But we know what it is?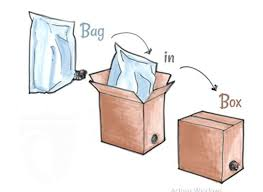 Bag in box, discover a new way of consuming wine
It consists of a new formula for liquid packaging, which is also being introduced in the wine sector very efficiently.
Thanks to the advances we have in the conservation of all types of products and liquids.
The wine (except cases), does not carry carbon dioxide (these products require different packaging), and therefore we can store them in all types of packaging.
Its design is designed to store easily, liquid and semi-liquids, and prolong the useful life of the product.
Features and Advantages of the Bag in Box
1.-Storage capacity: 5 or 15 liters normally
2.-Easy transportation
3.- The lower number of breaks
4.-Continuous consumption facility (built-in tap)
5.-It is a disposable product and easy to reuse for the materials with which it is manufactured.
6.-Lowest price. There is a good quality-price relation.
7.- Magnificent conservation properties of the product.
Personally this system, I have already used it with friends in different excursions or meals in the field, and the ease of transportation is appreciated, and the fact of knowing that there was no lack of wine in the food.
In addition, the existence of your tap allows you to serve individually in the food or put it in a jug for sharing.
Then if something is left over, which is usually not normal, you put it back in the car and back home. Not a drop of wine is wasted.
All this means that we can enjoy a quality product (wine), at a very interesting price, just because it is packaged in a different system.
In short, bag in box presents many advantages over traditional wine bottling systems.
Disadvantages of the Bag in box
There are many detractors of this system. After different inquiries and conversations with the sector, we note here, the main criticisms and disadvantages named:
1.- Break with the tradition of glass
2.- Regulatory needs
3.- Brand image.
4.- Regulation of the price policy.
5.-Finally, evaluation of adaptation costs.
Discover a new way of consuming wine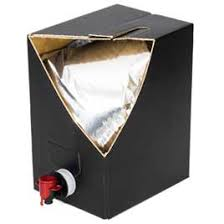 There are different sizes of bags in box to store the wine.
2 liters
5 liters
10 liters
15 liters
20 liters
The most common are those of 5 liters and 15 liters.
The sizes are designed for the occasions and the number of people that make up the event.
All are composed of:
-carton box,
-a bag that contains the liquid
-and a tap where the product can be served without removing it from the cardboard box.
And the Quality
The quality of the products packed in this Bag in Box system is exactly the same. The difference is in the packaging and not the consumable product.
Until now, we were used to the glass bottle, as a wine presentation and storage system.
The glass had qualities of maintenance of the properties of the wines that made it unique.
With the passage of time, and the discovery of new materials, circumstances have changed and now these properties are achieved in different types of containers and materials.
We live in an environment of constant and continuous evolution, and the world of wine and its packaging is no exception.
The Bag in Box is making its way little by little in our sector, this is a reality that we can not deny, and to the extent that we are able to accept it, it will occupy a place in the packaging and distribution system of our wines.
Conclusion: Bag in box, discover a new way of consuming wine
In conclusion, it is not a substitute system, but an alternative to wine consumption.
It is not a threat, but rather an aid to wine that favors its transport, sharing sensations and experiences, and therefore its consumption.