IBC Liner
is a food-grade liquid bag used for the storage and transportation of non-hazardous chemical and edible liquids. An aseptic irradiated execution is available as well. A large variety of filling and discharging valves and glands are available.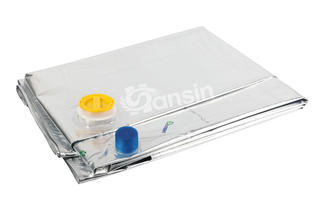 High Barrier Aseptic Bag(220L)
220L Aseptic bag was developed for the fruit and vegetable processing industry (tomato paste, fruit juice, jam,ect). With different features of oxygen resistance, low transmission rate, fairly good sealed strength. 220l aseptic bag is a packaging solution adapted to the storage and transport of liquid food products. It Keeps your products safe and fresh from fill to final unloading. protect the quality, extend freshness and dispense easily with minimal product waste. We have a standard barrier and a high barrier for the specific needs of customers.
Wine Bag In Box
Bag in box is a flexible bag made of multi-layer thin films, with acid and alkali resistance, high-temperature forming, and radiation sterilized. Foldable, lightweight, easy to store, to transport, reducing material storage and transportation fees. Environmental-friendly, recyclable.
Egg Liquid Bag in Box
Bag-in-box packaging is ideal for delivering bulk amounts of fresh, liquid egg that dispenses with easy-to-use, Bag-in-box and pouches protect the quality, extend freshness, and reduce waste. With aseptic technology, liquid egg products are shelf-stable and preservative-free—no refrigeration needed. Safeguard your liquid egg and keep it fresher longer.
Dairy Bag In Box
Bag-in-Box for Dairy, Sustainable packaging solution for Retail、Foodservice and Industrial use. Bag-in-Box is perfectly suitable for products such as fresh milk, ice cream, milkshake, cream, liquid cheese, and yogurts. The dairy product is vacuum-filled in a flexible bag - the barrier to oxygen and aroma– and placed in an outer corrugated box.