What is aseptic packaging?
Aseptic packaging allows products to be processed and kept at room temperature (ambient) without preservatives, while maintaining organoleptic properties. So taste, smell, colour and texture, as well as nutritional values, can remain unchanged for long periods of time. In this way no refrigeration is required, resulting in great energy savings.
What are
aseptic bags
?
Aseptic bags are used for a wide range of food products such as tomato concentrate, paste and pulp, fruit and vegetable juices, concentrates and diced fruits, as well as sauces, dairy, liquid eggs and wine. They are produced in sterile, cleanroom environments and are suitable for aseptically processed products which need to be filled, stored, and distributed at room temperature. They are a convenient and efficient way to transport large quantities over long distances.
The aseptic pack goes through a special sterilization process, optimally protecting the packaged product, in addition to maintaining varying degrees of oxygen barriers as required. They are available in several barrier choices of multilayer laminates and/or co-extruded films. The materials are highly resistant to perforation and can be combined with a wide range of closures and pouring spouts. They can also be treated with gamma rays to achieve the necessary levels of sterilization.
Aseptic bags are suitable for the efficient filling and dispensing of fresh, extended shelf life (ESL), aseptic liquid and processed food and non-food products for their better preservation. Big standard aseptic bags are available for the most common large containers, such as plastic, metal or polypropylene. For Intermediate Bulk Containers (IBCs) they offer a convenient and inclusive solution for the customer as a complete component within the IBC format.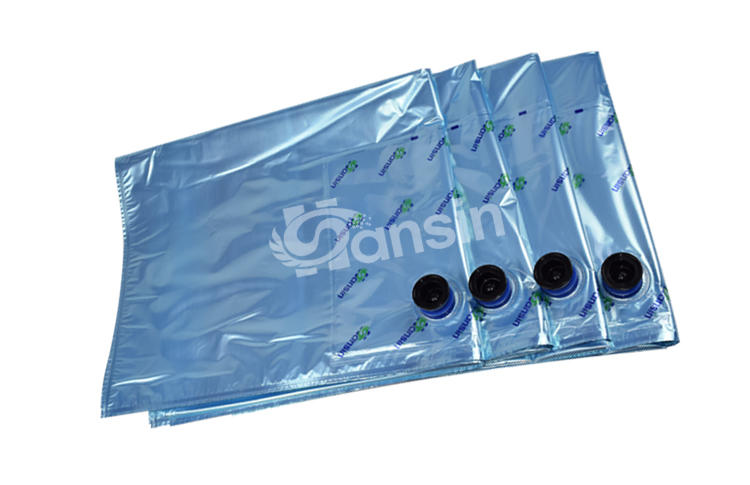 Sustainability
LESS PACKAGING WASTE
Aseptic bags are optimized to preserve products while reducing the amount of wasteful and costly dunnage*.
LESS PRODUCT WASTAGE
Aseptic bags provide a packaging option for fillers that delivers a safer, more reliable pack, resulting in less product spoilage. Aseptic bags offer customers peace of mind knowing that their bulk bag-in-box products are protected from flex-cracking and harmful oxygen transmission.
ENERGY EFFICIENCY
For most of the products in aseptic, no refrigeration is required resulting in significant energy savings.
RESOURCE EFFICIENCY
The bag-in-box system eliminates the need for metal cans and/or rigid plastic containers.
Bags represent a saving up to 70% on raw materials compared to rigid containers of the same volume.
Other Advantages
Aseptic bags are an attractive economical solution for packing and transport of liquid foods in large quantities.
They can reduce transportation costs: The possibility of reducing or eliminating the dunnage on large overseas and long-distance shipments can deliver significant savings.
The aseptic bag system is easily disposable and much cheaper than other comparable systems.