The global
bag-in-box
container market size is projected to reach USD 5.8 billion by 2028, expanding at a CAGR of 6.5%. The increasing usage for packaging of alcoholic beverages and dairy products has emerged as a major driving factor fueling demand for bag-in-box containers in the food and beverage industry. The growth of the industry is also fueled by the shift in consumption patterns towards natural food products across the globe.
Another important factor bolstering the demand for bag-in-box containers is the increasing consumption in the household products industry. In this regard, household products, most notably surface cleaners and surface deodorizers, are being increasingly packaged using bag-in-box containers. The growing urban population across the globe has further contributed to the growth of the industry owing to the increasing consumption of hygiene-promoting products in households. Furthermore, the industry is driven by the rise in the packaging of low-foam detergents in bag-in-box containers coupled with their rising consumption (low-foam detergents).
Europe has witnessed a considerable surge in the adoption rate of bag-in-box containers in the recent few years. The demand for the product in this region is principally driven by the food sector and is backed by the increasing demand and consumption of cooking oils and sauces. In addition, the demand for the product is also augmented by the shift towards organic and healthy food. The region has also been witnessing high demand for convenient and flexible packaging solutions. This development has been encouraging major food brands operating in flexible packaging to increase their scale of operation in Europe.
Low-density polyethylene and vinyl alcohol are the key raw materials used in the manufacturing of bag-in-box containers. These products are derived from crude oil and thus its price fluctuations affect the raw material pricing, further constraining the use of bag-in-box containers for various applications.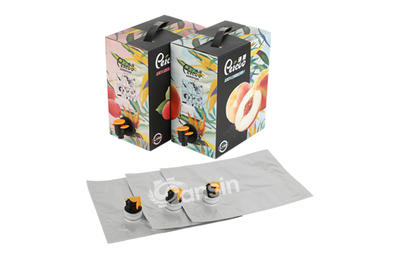 BIB is the abbreviation of the bag in box. The package is composed of a flexible bag body made of various materials and an external box made of cardboard. The bag body is equipped with a tap-like switch, which is convenient to open and take out. The unique design can let the liquid flow out and prevent the air from entering, thus prolonging the storage time of products.
Six advantages of bag-in-box packaging:
First of all, the bags in boxes can adopt different material formulas according to the performance requirements of different fields of liquid, so as to ensure the rationality, economy, safety, and reliability of packaging.
The structure of the bag in the box has good air tightness, which can provide satisfactory shelf life. It can still keep fresh for a long time after opening, with good quality and good oxygen permeability.
Bag in box is easy to use and can be opened and closed freely.