The
bag-in-box
format saw a dynamic 9% growth in Latin America over 2012. However, the pack format remains a very minor feature of wine packaging in the emerging markets of Latin America as well as the Asia Pacific. Wine is a product going from strength to strength in developing countries, where the perception of quality and links with the tradition of wine drinking in the "Old World" prevent any pack type from significantly challenging the glass bottle. Glass' future is particularly bright in China, where a growing mid-income group continues to embrace the culture of drinking wine, with very few prospects of competition from any other pack types.
Bag-in-box is meanwhile expanding rapidly in actual unit sales among some of the largest wine-drinking countries in North America and also Europe, interestingly where the 750ml glass bottle has long been inseparable from wine consumption patterns. Some of the heaviest wine-consuming countries continue to free themselves from traditions around wine drinking and embrace bag-in-box packaging as an alternative to the standard glass bottle. The US is the largest bag-in-box consumer country in the world and posted a 6% unit growth in 2012. The economy factor offered by the bag-in-box format in comparison to the glass bottle has been embraced by American consumers, who are already familiar with value-for-money packaging in spirits and beer, in particular through the use of PET bottles. The convenience factor is the second driver behind the success of bag-in-box in the US, with the three-liter format largely benefiting from a growing pattern of wine consumption outdoors as its size and light weight enable it to be easily carried to the park or beach.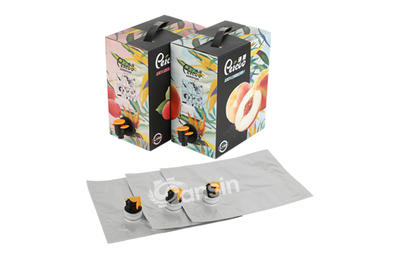 Six advantages of bag in box packaging:
First of all, the bags in box can adopt different material formula according to the performance requirements of different fields of liquid, so as to ensure the rationality, economy, safety and reliability of packaging.
The structure of the bag in box has good air tightness, which can provide satisfactory shelf life. It can still keep fresh for a long time after opening, with good quality and good oxygen permeability.
Bag in box is easy to use and can be opened and closed freely.
The overall weight of the bag in box is relatively light, and the transportation cost is relatively low.
The outer packing of bag in box can be made of different materials and shapes, which can form various styles and grades and meet the needs of different groups and occasions.
The bag in box is suitable for many kinds of packaging (1-25l).