3 Liter
Bag-in-Box Containers
are a popular size for everyday use in your home kitchen and are a favorite of restaurant chefs across the country. They are easy to use, environmentally friendly, and help preserve the shelf life of the oil.
This packaging is an innovative alternative to traditional tin packaging, with the following advantages:
Environmentally friendly. The entire "Bag-in-Box" is 100% recyclable and BPA-free!
Easier and less messy to use and store. They pour smoothly from a sealable Easy Pour spout, eliminating splatters and slippery messes.
Lessen olive oil waste. Unlike tins, there is no un-pourable oil left at the bottom.
Better preserve olive oil quality and extends the shelf life. Unlike bottles and tins, this bag collapses when poured and less oxygen is allowed inside to degrade the oil.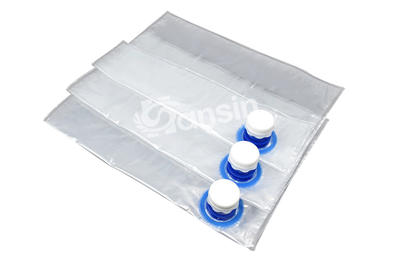 Transparent BIB (Bag in box)

Advantages:light in weight,convenient for storage and transportation,low breakage ratio and convenient use,economical solution for transit storage,transportation and final retail packing.


This bag is maked by PA/PE laminated materials,with basic barrier and transparent material,it is widely used for edible oil,liquid egg,jam,syrup and other chemicals.