COSMETIC ISSUES of ASEPTIC BAGS
ASEPTIC BAG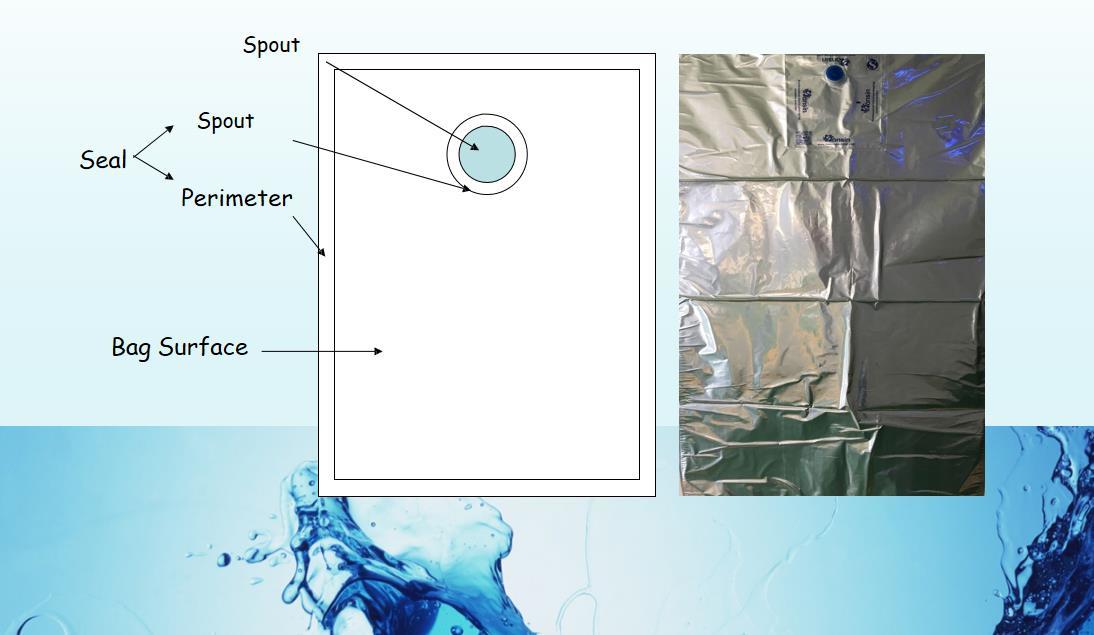 WRINKLE
Wrinkles are line impressions on the laminate. 。 Wrinkles do not affect the functionality of bag. Once the bag is filled, the wrinkles are not noticeable.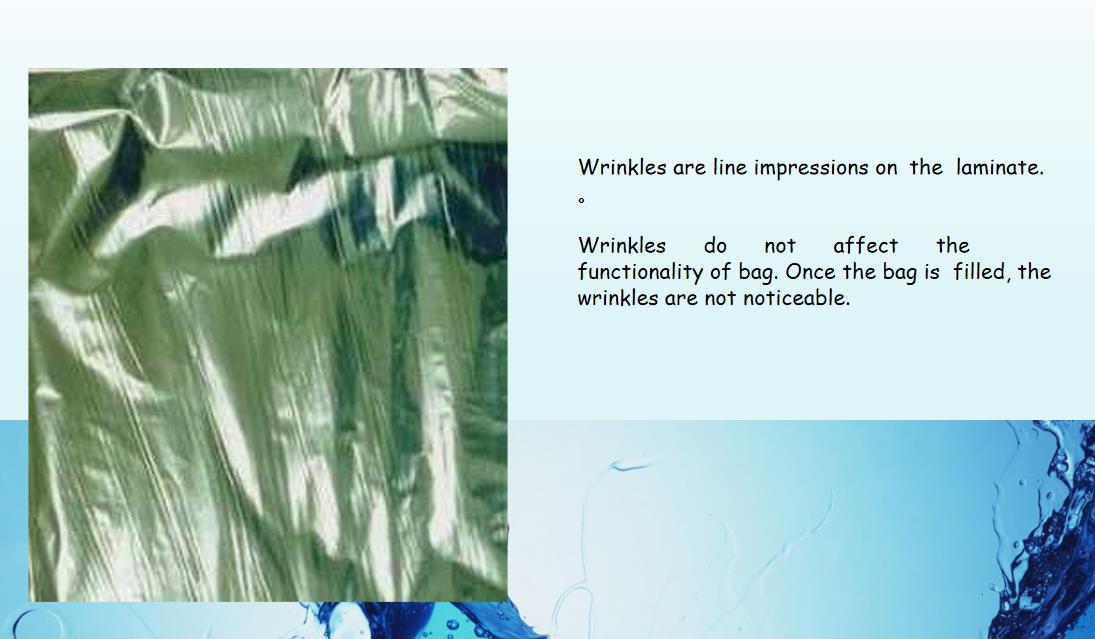 SCRATCH-LIKE
Scratch-alike is actually fold abrasion arising during packing and unfolding, in particular when the bag is being unfolded improperly to encounter a place with sharp corner, as a result of the tensions gathering at the sharp corner and diverse flexibility between PE and metalized PET which both laminated together, the scratch-alike will be created along with tensions abovementioned forcing unfolding bag suddenly.
IMPURITY – FISHEYE – BLEMISH - GEL
Fisheyes – Impurity –Blemish – Gel is material inhomogeneous on the surface bag. This is an inherent part of the bag during film extruding process and properties of the bag remains unaffected.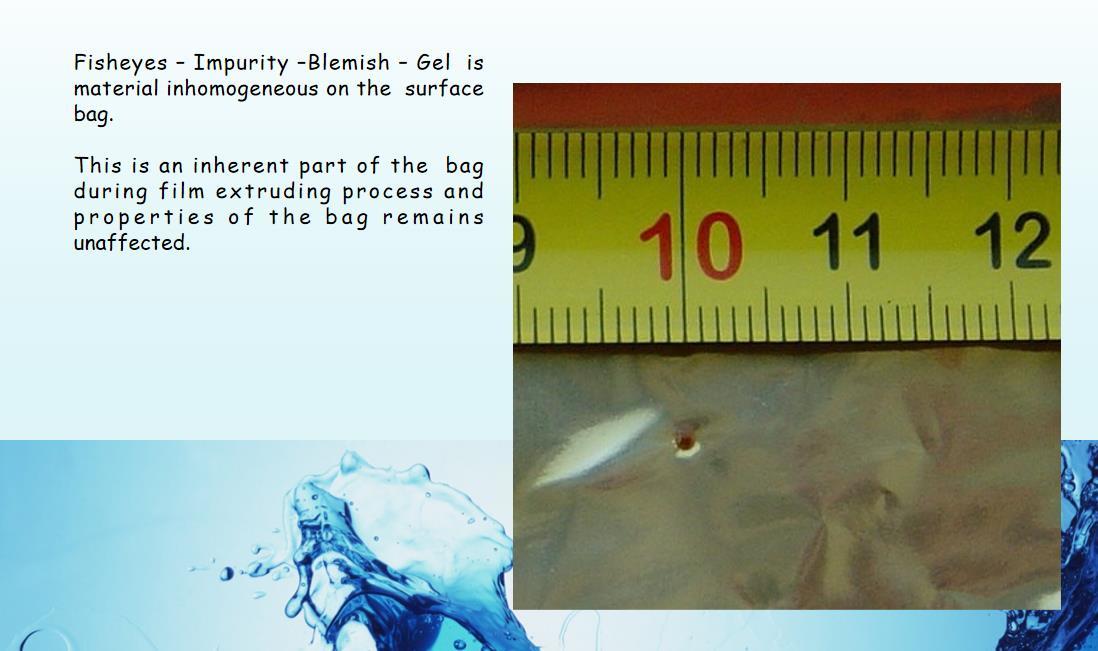 PLEAT
Pleat is folded over film pressed together and can not be pulled out. The pleat located on the body of the bag does not affect the functionality.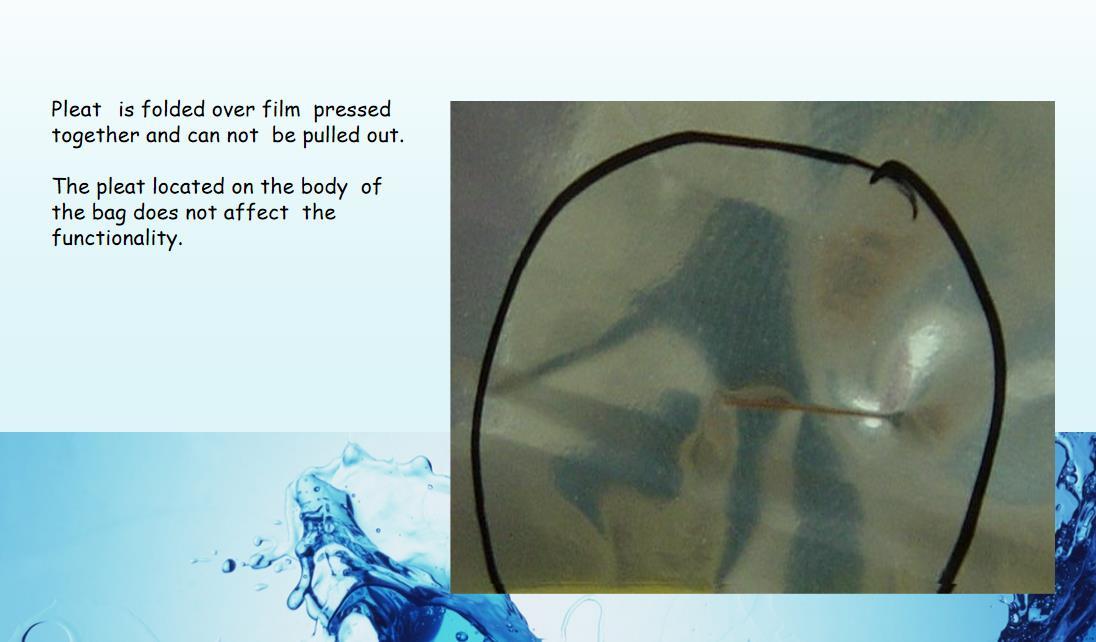 LINE-LIKE
Lines are occurred during lamination stage presenting only on the external film of polyethylene. Lines do not affect either the OTR or the other functionality of bag.
AIR POCKET
Air Pocket can appear between the layers giving the laminate a bubbled finish during the laminating process. It does not affect the barrier property or other function of the bag.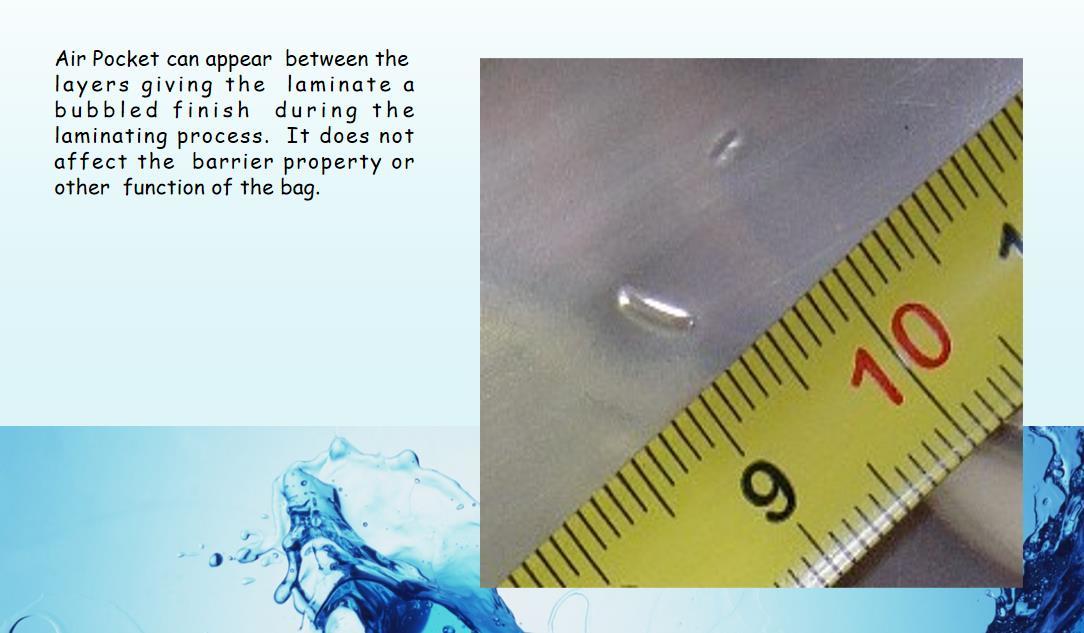 These cosmetic issues maintain unchanged the properties of the packaging and properties of the bag remains unaffected.
Aseptic bags cannot be touched by unqualified people: the more they touch them, the greater is the risk. We cannot by held responsible for any problem which may arise in connection with mishandled bags. In order to avoid contamination and damage risks, the boxes shall be opened and the bags taken out only immediately before filling.
SPOUT
Before filling verify that the spout is properly-- the cap shall be perfectly aligned to the gland.

Immediately discard any bag with oblique cap. Never try to open the oblique cap with filler.

Immediately discard any bag with fully closed cap. Never try to open the fully closed cap with filler.

SHRINK SEAL
Shrinks which located at the most outside edge of the spout seal is due to the sealing equipment of spout which was not perfectly centred during bag making. The spout seal maintain the same functionality.